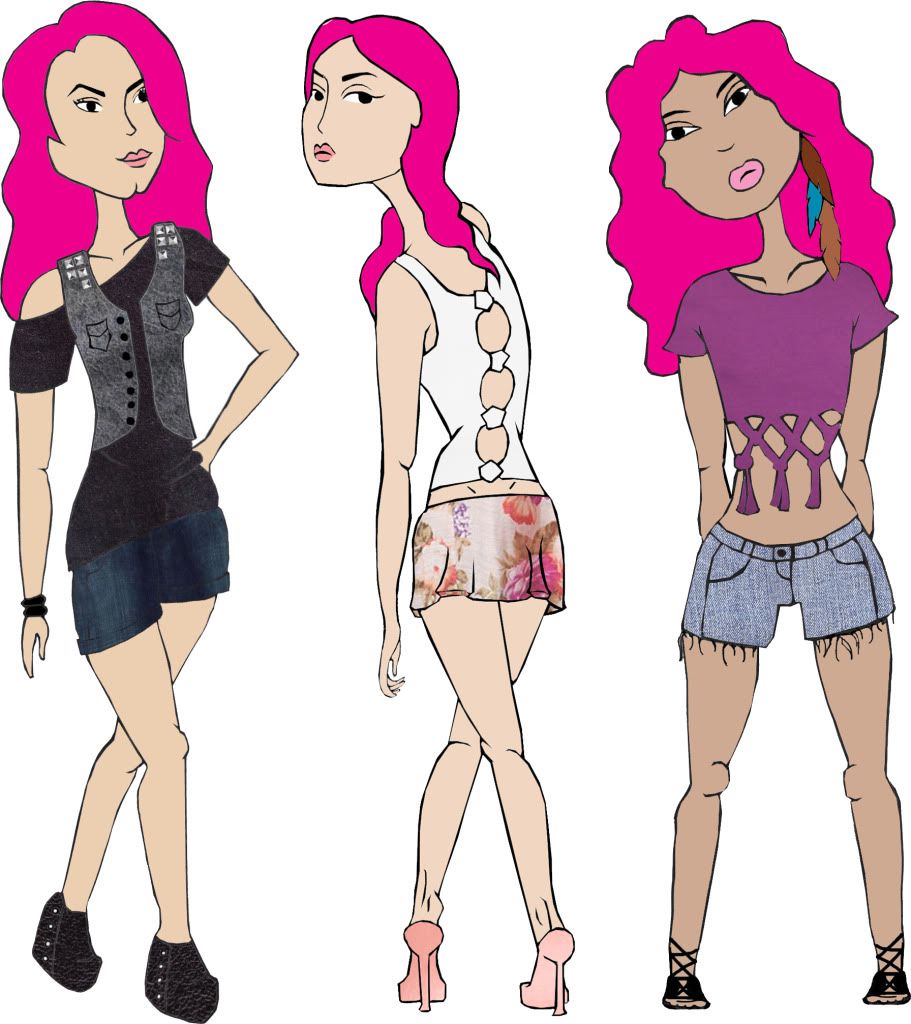 Love is Louder, To Write Love on Her Arms, Keep A Breast, Delete...what do these words have in common? They're all organizations for a cause and they all use one of the same technique to quickly spread the word about their movement: they sell printed shirts!
We all love wearing our supportive tees for our favorite organizations, but there's only so many ways to wear a tshirt. I'll teach you how to spruce up your bland-shaped shirt and style it accordingly!

Demi's Shirt:
1. Be sure your shirt is on a flat surface
2. Cut out a wide collar
3. Use your seams as guidelines: cut from shoulder seam to shoulder seam, just under the collar.

Styling:
You now have a totally 80's inspired off-the-shoulder tee. You could wear it with just skinny jeans, but why not take it a step further? Find a cute destroyed denim vest to layer on top (try etsy.com, a lot of people make these themselves, and they're custom, so no two will be the same!) Pair with dark wash denim shorts, but avoid cutoffs or embellishments since you already have a lot going on up top! Sky high edgy wedges will finish this outfit and counter the boyish vest by making your legs look miles high and feminine. Finish with stacks of hardware inspired bracelets and chunky rings like this, this, this
, and this. Avoid a busy torso by skipping necklaces and earrings.

Second Model's Shirt:
1. Cut the collar out of your shirt.
2. Cut the back of your tee up the middle
3. Cut 6" strips into either side of your shirt. It doesn't matter how many you have, as long as you have the same amount on both sides.
4. Put the shirt on and have a friend tie the strips together as tight as you like.
(Optional) Cut the sleeves off of your shirt and adjust the collar to a shape that suites you.

Styling:
Play up the tightness of your new knotted shirt with a ruffled floral mini skirt. Counter the casual shirt with some girly pumps
that make your stems go on forever. Wear your favorite dainty jewelry and be sure to stick with thin chains and avoid over sized, chunky charms. Tip: silver jewelry works on paler skin with rose undertones, while gold jewelry highlights dark olive tones.

Third Model's Shirt:
1. Cut any number of vertical 8" strips all around the bottom of your shirt
2. Cut off every other strip
3. Double knot pairs strips together
4. For the next row, separate the strips from your knots and tie neighboring strips about three inches down.
5. Repeat
For example, if you only have four strips: 1, 2, 3, and 4, tie 1 & 2 and 3 & 4 together. Then separate and tie 1 & 4 and 2 & 3 together

Styling:
You now have a unique, bohemian inspired DIY shirt that people will definitely be asking about. Keep it casual with vintage faded cutoffs. Lace up sandals
and espadrilles.
look super earthy and keep you cool in warm weather. Accessorize with hippie jewelry like one feather earring and handmade bracelets

Let me know what you think! Would you like to see more celebrity-inspired models?