Even if you don't live on the coast, beachy makeup is always in for summer. I've suggested products that won't melt off your face or cake up in the most humid climates.
Plus I've included tips you've probably never heard about!




Instructions
First of all, make sure you use sunscreen formulated for your face and let it soak into your skin for at least 5 minutes before you start applying your makeup. Your sunscreen should be the appropriate level of SPF your skin requires. Make sure to read the ingredients and choose a product that is made with titanium dioxide or zinc oxide.

Tip: If you learn anything from this post, I want it to be the fact that UV Radiation can cause skin cancer and premature aging if you don't take necessary precautions.
If you want addition information please visit the website for The Skin Cancer Foundation website.


Face:
Splurge:
Laura Mercier Tinted Moisturizer SPF 20
$42
Save:
Neutrogena Healthy Skin Enhancer
$10.49
This step is totally optional, but if you feel like you need a little coverage then opt for a tinted moisturizer rather than a liquid foundation that will slide off of your face.
Tip
Instead of concealer, you can just apply additional layers of your moisturizer to problem areas.
Tip
You don't have to apply coverage over your entire face. Just dab your tinted moisturizer on problem areas and blend it out!
Highlighting: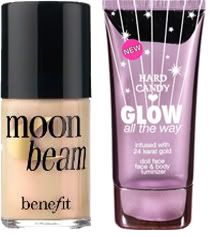 Splurge:
Benefit Complexion Enhancer in Moon Beam
$24
Save:
Hard Candy Face & Body Luminizer in Doll Face Pink
$8
Take a small amount of your highlight color on your fingers and distribute it on the parts of your face that light hits the most. These places include your t-zone (you may want to avoid this step if you feel like your skin already oily) and on top of your cheekbones, avoiding the soft tissue under your eyes. This will enhance these areas in the sunlight and make them look more dewy.
Tip
Another spot to place your highlight is on your eyelids. This will brighten your eyes and keep you from feeling naked without eyeshadows that will crease when you sweat!
Tip
The "T" area is on your forehead, down your nose, your cupids bow, and the top of your chin.
Tip
Using the warmth of your fingers avoids the appearance of brush strokes and helps the product "melt" into your skin and look much more natural.
Cheeks and Lips
Splurge:
Tarte Cheek Stain in Tipsy
$30
Save:
E.L.F. All Over Color Stick in Persimmon
$1
Tip
To save money and cut down the amount of products you use, I've provided products that can be used on your lips AND cheeks.
Tip
You can use my
customized blush post
to get the most flattering application for your face
Apply your product to your cheeks and blend out with your fingers
Apply the product to your lips just like you would with lipstick or lipgloss. The best part about cheek stains is the ability to apply the product lightly and build the color up to your preference.
Tip
An optional step is to use a sheer gloss over your lips to make them look more juicy!
Tip
Peachy pink colors tend to look more natural in sunlight and it's a great color for any skin tone!
Eyes
Splurge:
BADgal Lash Mascara in Plum
$19
Save:
Hard Candy Ginormous Mascara in Purple Haze
$4.80
Purple is a flattering color for all eyes, so why not use purple mascara? Don't worry, you won't look like a clown with your plum peepers because it appears almost black at first glance, but when the sun glares on your lashes, they'll look one-of-a-kind and beautiful.
Tip
Try to avoid spider lashes by applying thin coats. Be sure to curl your lashes first so that they'll fan out and look fuller.
Tip
If your lashes still don't look thick enough, try using a waterproof liner like
Make Up For Ever's Waterproof Aqua Liner
in Diamond Black Purple to draw a tight line close to your lashes.
I hope you enjoyed my beachy product selections! Thanks for reading and be sure to suggest your favorite summer products in the comments.