Wow! Talk about a loud color statement. I think we can all agree that it would take a brave woman to rock this extreme color and I think these six celebrities did it flawlessly. The trick is to keep the rest of your makeup very subtle to showcase your "in your face" neon lips. Notice how all of them did a variation of a plain or smokey black cat eye.





You're going to need a lipstick that absolutely compliments your skin tone to pull this drastic look off, so here's a few inexpensive options to try out. If you decide to make this look your personal style staple (Nicki Minaj is an example,) then there's no harm in splurging on an even more amazing color.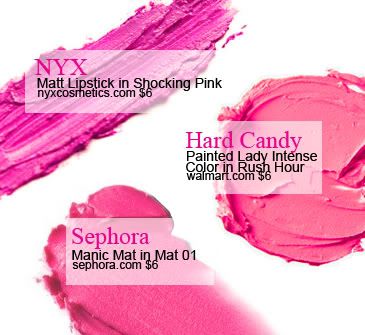 Just a suggestion:
For fair skin, stick with more bright bubblegum colors.
For dark skin, try a warmer hot pink that is closer to red.
Clean up any stray lipstick with a foundation brush and a little concealer.
Still too crazy? Put a little lipstick on your finger and dab it on your lips. This will create a sheer effect so that once you're comfortable wearing the color like this, you can trying building up more color over time until your lips are full blown attention grabbers.
So tell me, who do you think wore the most perfect pink pout?