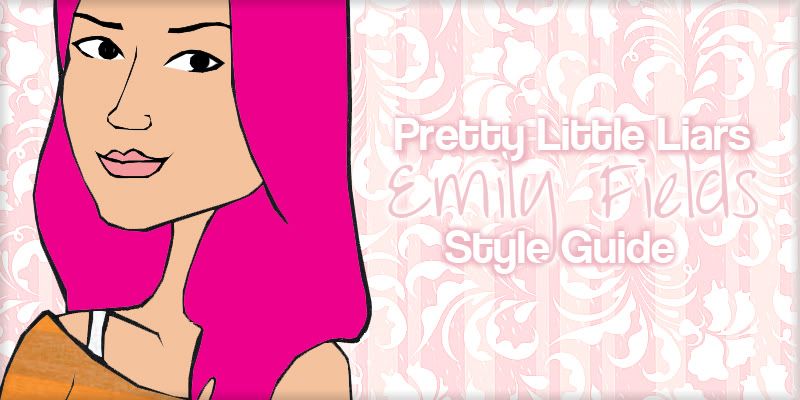 Did you guys watch
Pretty Little Liars
tonight? It's undoubtedly getting more and more intense. With the steamy relationship heating up more and more between Aria and Ezra (and what's with Jason?), the tragedy between Hanna and Caleb, the detective work of Spencer (again...Jason!?), and of course, Emily's bizarre life and the soul target of "A" right now. Don't worry, I won't pour out any spoilers for those of you who didn't get a chance to catch it, but I
will
fill you in on some of Emily's style.

Did you guys watch
Pretty Little Liars
tonight? It's undoubtedly getting more and more intense. With the steamy relationship heating up more and more between Aria and Ezra (and what's with Jason?), the tragedy between Hanna and Caleb, the detective work of Spencer (again...Jason!?), and of course, Emily's bizarre life and the soul target of "A" right now. Don't worry, I won't pour out any spoilers for those of you who didn't get a chance to catch it, but I
will
fill you in on some of Emily's style.
Shay Mitchell is a totally gorgeous twenty-four-year-old Canadian who is a spokeswoman for Pantene. No wonder her hair is always pristine! Her character, Emily Fields, isn't afraid to be exactly who she is inside. She's a die hard swimmer, and her body reflects hard work. She has the most relaxed and comfortable style and shows a tasteful amount of her toned body on
Pretty Little Liars
.
Her main features are her broad, athletic shoulders and her long, lean legs. Loose shirts effortlessly drape off of her wide torso, so try off the shoulder shirts along with slouchy dolmans. Crop tops are also an option, so if you're still in school, wear a cami underneath to keep it appropriate. Emily wears lots of mini skirts and shorts which could easily translate into skinny jeans for fall. But for now, wear those shorts accordingly using
this post.
What else would an athlete wear than simple sneakers? Running shoes and converse are your best option to keep it cool like this Filipino infused bombshell. Of course, I won't leave everything up to you, here's some options to try out!
And don't forget to subscribe to see new
Pretty Little Liars
posts for the rest of this month. Up next is the beautiful Hanna! Can you say "fashion obsessed?" I won't let you down.