Pretty Little Liars is getting more and more intense as the summer finale slowly creeps up on us. Emily is still the focus of "A" with her cereal shock and scary spa visit. Aria and Ezra's relationship is ready for a new extreme, just in time for a rumor of romance between Spencer and Ezra, but at least Spencer looked stunning in a one-of-a-kind denim cutout shirt (just a side note: denim is huge for fall fashion, so take notes from Spencer, ladies!) Jenna is extra creepy, showing up places she shouldn't be and hanging out with Garrett, a part of the N.A.T. club that includes Jason and former member, Ian. On top of all this drama, Hanna has her own problems; she's the target of her evil stepsister-to-be after a bad horseback riding experience and a little embarrassing trash talk. If you haven't already, you'll have to get additional details from watching the episode because I don't post spoilers!
S
o, despite the threat of lifelong misery this week, Hanna remains stunning through the highs and the lows. Ashley Benson's character has the most high end style out of the four liars and she lives for girly pieces that she can put an edge on with classic cut blazers and fitted minis. In the series, Hanna won't wear anything that isn't designer, but it's easy to find designer-inspired pieces that won't drain your wallet.
T
o achieve her style, search for extremely textured or ruffled shirts and throw a sleek blazer over it to give it an eye pleasing contrast. If you have a blazer that you feel should be the focal point (like the scalloped blazer, pictured below,) just stick to a basic cami to tone down the competition of your outfit. Of course, layer with a mini skirt or tuck your top into a pencil skirt with a high waste to look completely polished.
H
anna can even throw a blazer over a dress and make it look like it was meant to be! The same rules apply to creating a dress and blazer combo: keep the dress girly and the blazer structured, or vise versa.
C
olorblocking is still a huge trend, but Pretty Little Liar's cast don't take it to the extreme, so keep it Hanna inspired by wearing a cobalt colored dress with bright pink wedges to mix things up.
S
peaking of accessories, cutout and strappy wedges or heels should fit in perfectly with anything Hanna-inspired. Cinching your waste with a belt can also give you a more Pretty Little Liars feel. And your purse doesn't have to be designer, just make sure it appears that way (same rules apply for jewelry.)
Clearly, Hanna Marin's style is complex and very chic and she's always dressed to impress. To kick off your inspiration, I've included a little collage of Hanna style clothing below. Don't forget to check in next Tuesday for a Spencer style guide and as always, be sure to watch Pretty Little Liars on ABC Family right before the next post. There's only two more episodes and they're going to be intense!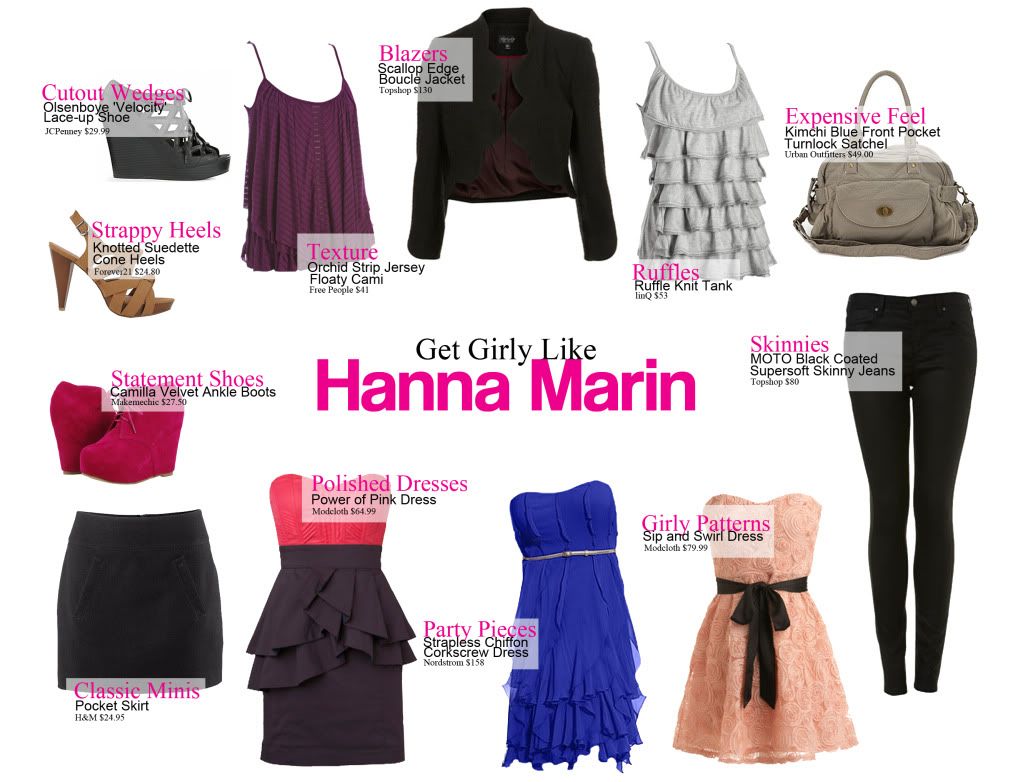 What Do You Think of Hanna Marin's Style?