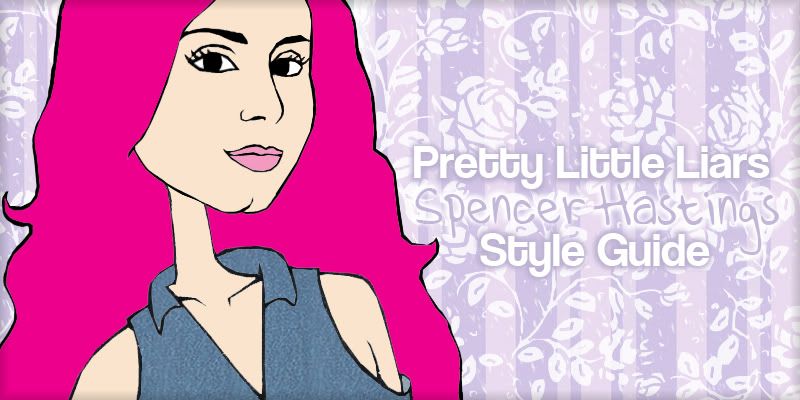 Spencer Hasting's style is a little bit equestrian, mixed with vintage staples, polished with classic cuts, and totally one-of-a-kind. Click the button below to see her complete style guide!
Is anyone else extremely bummed that next week is the Summer Premiere of Pretty Little Liars? I can't believe it's gone by so fast, but at least the drama is at its peak. Emily finally broke down after being singled out and put under extreme pressure by "A" for so long and now we've discovered why Jenna is so close to Garrett lately. Hanna and Kate seemed to be getting along again, but Hanna learned that she is too trusting of others and found herself in a rut
again
. Apparently things just weren't meant to work out between her and her new stepsister. Aria's family is under extreme tension due to the aggressive and dangerous behavior of Mike. But, to me, it seems like the last four episodes correspond with my style guides; by that I mean, my Emily style guide went up when Emily found herself in the hospital with ulcers; my Hanna guide was posted when Hanna's loose lips destroyed her image; and now, my Spencer style guide is becoming available just as we find out there is a major link between the Hastings and DeLaurentis families. Weird, right?
Troian Bellisario's character is a mix of vintage staples, equestrian inspiration, classic cuts, and preppy styling. To achieve Spencer's polished style, it's as easy as layering a blazer over your outfit. Take it a step further by wearing a patterned cardigan under it. Another trick to keeping this style sleek is to tuck qualified shirts in. By this, I mean fitted, button down shirts, camis, and anything overly baggy.
My favorite piece that Spencer wears effortlessly is ankle jeans which are just skinny jeans that end above your ankles. If you don't have any jeans like this, try rolling up your jeans to look similar to "high waters," but not high enough to be capris.
5'7" Troian would stand out like a sore thumb against the other "little liars" if she wore heels which means flat footwear is important for her. To capture Spencer's style, stick with wingtip oxfords and knee high riding boots. For Fall, tuck skinny jeans into your boots; to wear them with a skirt, layer thick knee high socks under them.
For additional ideas, refer to the picture I've included below.

As I said before, only one episode left of the season, so be on the lookout for Aria next week! Do you think we're going to find out who "A" is? Leave comments below. And be sure to subscribe
Naked Palette Giveaway
that I will host as soon as I get 100 subscribers!
Check out past style guides for
Hanna
and
Emily
.
What do you think of Spencer Hasting's style?