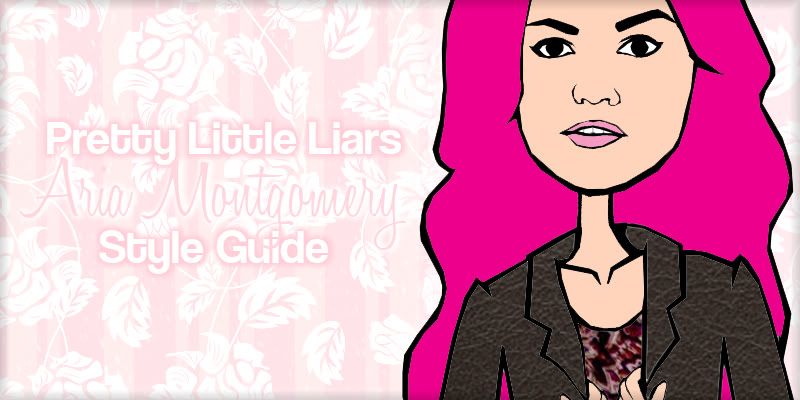 Pretty Little Liars fan favorite, Aria Montgomery, has the most sought after wardrobe of all the little liars. Her girly fashion sense is spiced up with edgy pieces that look flawlessly worked in. Click the button below to see an Aria inspired style guide.
I hope everyone can excuse my absence and my lack of posts lately, but I've made a last minute mini vacation and I haven't had time to put together anything extraordinary.
Anyway, hopefully everyone enjoyed the Summer Finale of Pretty Little Liars on ABC Family on Tuesday. I think all fans of the show will definitely be tuning in to see the full story of why these girls are locked up and hopefully they'll expose who "A" is soon enough! It's heart wrenching to see what Spencer had to do to Toby to keep him safe, but on the other hand, Hanna's bold decision at her dad's wedding needed to happen considering the family's hectic past. And has anyone else been a little bit skeptical of their GPS ever since Emily's was taken over and sent her to a scary location? Lucy Hale's character, Aria Montgomery, will probably never be able to reveal her relationship with Ezra to her parents, especially when she's in such deep trouble. It's too bad we won't see any more of Aria's style until the end of October, but for now, I'll provide some tips and tricks to hold you over!
Aria's closet could leave so many fashionistas green with envy since it's so wearable and appears so effortless. To cheat and skip the stylist, stock up on dark colored, girly, frock-style dresses that have fitted torsos and A-line waists. Flowery prints are ideal, but anything pretty would suffice. Grunge up any flirty florals with a tough leather jacket and some hardware embellished, strappy heels.
Not in the mood to wear a dress? Try some tailored, black, high wasted
shorts
with a cami tucked in. Since this look can seem a little bland, spruce it up with a printed cardigan.
As for Aria-inspired accessories, studded pieces contrast with pretty outfits. Large statement earrings like chandeliers and feather earrings can be worn on one side with a hairstyle like
this
. Knee high and chunky socks make a look more casual when paired with knee high boots and huge hobo bags can be great for school since they can double as a bag for heavy books.
For more inspiration, look over the style guide below and let me know what you think. Personally, I do feel like Aria's style is the most wearable since it can be modified in so many different ways. For example, if you don't like wearing heels, you can substitute boots and if dresses aren't your style, you could switch the look up for a romper.
Must see:
Spencer Style Guide
Hanna Style Guide
Emily Style Guide
Leave suggestions for more style guides below. And be sure to subscribe
Naked Palette Giveaway
that I will host as soon as I get 100 subscribers!