I'm loving my blog so far and I hope everyone who sees my posts does as well!
In honor of you guys, I hope to do a giveaway in the near-ish future.
I'm thinking once I get either 100 or 150 subscribers, the giveaway will officially start. I've raised the bar a little high on followers because of the semi-luxury of the prize I'm choosing.

So I need help from you guys. What would you like to win in a giveaway? You can vote on any of the choices I've provided or make your own suggestions in the comments. I want to make sure the majority of my followers can agree on a prize that ANYONE would love winning.
I will probably do one or two follow up posts to show the new suggested prizes that you can vote on until we find the final product.

So here are some suggestions (just click the picture to enlarge):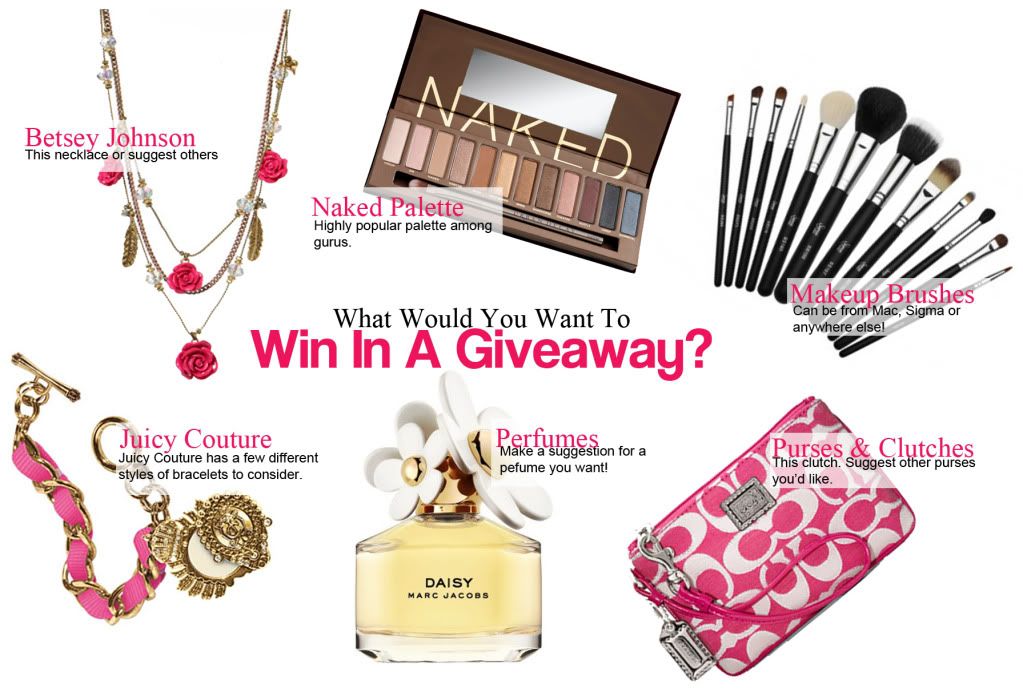 Suggestion rules: Be sure to make reasonable requests. Clearly, I'm not giving away an Alexander Wang bag that costs thousands of dollars! Ha ha. Make sure your suggestion is more product or accessory based. Avoid things that come in sizes (rings, clothing, etc.) because a size 6 ring doesn't fit all of us! I know I would hate winning a size 6 ring because I'm a 7!



Rules & Disclaimer
1. If you vote "Betsey Johnson" or "Purses & Clutches," I will assume you mean the one pictured, unless otherwise stated in the comments. I will most likely post additional options in a followup post.
2. You must be a subscriber. If you don't subscribe, I won't be able to consider your suggestions and you can't be a part of the giveaway.
3. This giveaway isn't sponsored in any way by any of the companies listed, hence the vagueness of the prize.
4. I have the right to cancel for any reason. Remember, I am only human and potential issues may take place that would restrain me from holding the giveaway, but I'm 99% sure everything will go smoothly.
5. This IS for promotional purposes, to get my name out there.